Profile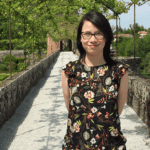 Karla Dussan
Curriculum Vitae
Education:

National University of Colombia (2004-2009). University of Limerick (2010-2014)

Qualifications:

Bachelors in Chemical Engineering, PhD Chem Engineering

Work History:

University of Limerick - Technology Centre for Bioenergy & Biorefining, and National University of Ireland Galway

Current Job:

Postdoctoral researcher at NUI Galway

Employer:
Favourite thing to do in science: Create models that help engineers describe complex problems and transformations

About Me: Colombian native enjoying research in the energy field, making mistakes and learning every day, trying to see the devil in the detail!

Read more

Hi there!

I am a 29-year old researcher at the National University of Ireland Galway. I am a Chemical Engineer by profession, but I have been dedicated to research since 2009. I am interested in the use of organic wastes (brown bin waste, used paper/plastics, even poop!) and lignocellulosic biomass (plants, grass, wood, bark, gardening waste…) to produce electricity, heat, fuels for transport, chemicals for industry, and new materials.  In this area, I experiment in the lab to test how wastes and biomass react under certain conditions and use the data to create mathematical models that can describe what happens once we go to real life. I am native from Colombia, in South America, where my hometown stays above 30 C most of the year… However, I have lived in Ireland since 2010 and love its green and rain, its people and the opportunities I have found here to contribute to society with my research.

Apart from science, Engineering and research, I love cats, enjoy writing, reading sci-fi and historical fiction, and am a bit of a geek with sci-fi TV/movies/comics.

My Work: Finding better and new ways to use organic wastes and biomass to produce energy and chemicals. From the electricity we use at home, to the gasoline for our cars, with lots of possibilities in between.

Read more

I am currently a Irish Research Council fellow working in creating and improving physical and chemical models or representations of how organic materials react when heated and converted at high temperatures… This with the objective to produce a gas product that can be used as natural gas in the most efficient way. This natural gas in turn can be used for cooking and heating at home, and also to generate electricity. Other aspects of my work are related to cooking organic materials, like wood, grass or what is left after cutting the trees, and using other chemical agents (called "catalysts") that help use transform these into very valuable and useful chemicals.

My Typical Day: When I'm not writing or playing around with mathematical models and processing data at my desk, I may be with lab coat on burning or cooking biomass in the lab!

Read more

On the one hand, I work at the lab in different types of experiments. Some involve "cooking", for instance, we use water or other liquids to help dissolve and de-construct biomass so that we can separate each of the parts that make part of it (look at this cool graph that shows what makes up of biomass). Once you release each of the components, you can use other chemical agents, for instance, acids, to help transform them in other molecules that are more suitable to be used as fuels or as building blocks of materials, like plastics. Some other tests involve "burning" or heating at high temperatures with no liquids, but rather active or inactive gases, as to biomass to go through what is called pyrolysis, gasification or combustion. And linked to these experiments, we have analytical tools that help us measure what products and how much of them we form from each test. After gathering data, I can use modelling tools in my computer to analyse what is happening and build mathematical representations of the phenomena I studied. I love this part!

On the other hand and as important as the experimental part, my job is also to write down what I do and the results of my tests and models so that others can learn and know about it. This involves some thinking not only in what is the best way to show others your work, but what are the best practices for "designing" your experiments and display your data.

What I'd do with the money: We (our research group at NUI Galway) want to prepare some didactic materials to show the coolest and challenging aspects of thermal conversion of biomass and organic materials!

Read more

We recognise how important is to get you guys involved in science, technology and engineering. We want to show you everything about thermal conversion technologies, what it means to burn (combustion), to produce gas and liquid fuels (energy!) from good, environmentally-friendly resources (biomass and wastes!). If we get the prize, we will invest it in preparing didactic materials and a demonstration stand to show you all things thermal about biomass: what parts biomass is made of, how it is transformed during thermal conversion, what we know and can do to this day, and what is needed from future researchers and engineers (you!) to help the planet and improve these technologies.
My Interview

How would you describe yourself in 3 words?

Hardworker, stubborn, curious

Who is your favourite singer or band?

There's always a new favourite, but forever Megadeth!

What's your favourite food?

Noodles

What is the most fun thing you've done?

Camping on site at music festivals! Crazy chaos!

What did you want to be after you left school?

Chemist

Were you ever in trouble at school?

Not really...

What was your favourite subject at school?

Maths & chemistry, although always did better in Literature & Philosophy, can you believe it?!!!

What's the best thing you've done as a scientist?

Creating and expanding the way we describe plants and organic matter to understand how they can be transformed into energy.

What or who inspired you to become a scientist?

Being able to help others and the planet

If you weren't a scientist, what would you be?

Writer

If you had 3 wishes for yourself what would they be? - be honest!

1. Have a huge farm full of rescued cats and dogs. 2. Being able to sing. 3. Becoming a mathematician!

Tell us a joke.

Exothermic reactions? I studied them before it was cool!
My profile link:
https://energyn17.imascientist.ie/profile/karladussan/
---
---